Who We Are
Is your Dental Surgeon a Board Certified Periodontist?
While many dentists are licensed to perform most dental surgeries, only a board-certified periodontist has undergone years of specialized training and rigorous examinations to ensure that they provide all patients with the best therapy.
Why trust your smile to anyone else?
Dr. Andrew Barnett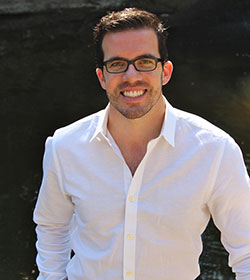 Dr. Andrew Barnett, a native English and Spanish speaker, was born in San Juan, Puerto Rico. Through his father's job at Ford Motor Company, he got to live around the world, but he still always called Detroit his home. He attended the University of Michigan and earned his Bachelor of Science degree in Biopsychology and Cognitive Science. To pursue his passion in dentistry, he attended the University of Pittsburgh and received his Doctorate in Dental Medicine. Choosing to specialize, he returned to the University of Michigan and completed his Certificate in Periodontics. As a Board Certified Periodontist, he is experienced in surgical services including implants, soft tissue grafts, bone augmentation, extraction of impacted teeth, and resective and regenerative therapies for the treatment of periodontal disease.
In 2014, Dr. Barnett and his wife Mariya (who is also a dentist) moved to Dallas. They love calling Texas home. Together, they enjoy rooting for their Wolverines and exploring everything Dallas has to offer!
Memberships
American Board of Periodontology - Diplomate
Texas Society of Periodontists - Director
American Academy of Periodontology
Texas Dental Association
Dallas County Dental Society
American Dental Association
Alpha Omega Dental Fraternity
Delta Sigma Delta Dental Fraternity
Dr. Alon Shalev
Dr. Alon Shalev is a periodontist who is committed to delivering quality clinical care while always keeping his patient's best interest at heart. He earned his Doctor of Dental Surgery degree at the Lithuanian University of Health Sciences in 2005. In 2010, he obtained a Master of Health Management from the Ben-Gurion University of the Negev and went on to earn his periodontics specialty certificate as well as a Master of Science degree at the University of Minnesota. Dr. Shalev found his passion for dentistry by watching his father, who is also a dentist. He has run multiple dental practices in the past, but today, he primarily provides implant dentistry, cosmetic dentistry, and micro-surgery. He is a member of the American Academy of Periodontology and has published several papers in major journals in his field.
In his free time, Dr. Shalev likes to travel with his family (including his wife and two kids), exploring new places, sports, and fine cuisines. He enjoys volunteering by providing dental care to veterans suffering from PTSD, and he also lectures and teaches continuing education courses.
DeAnna Garza - Office Administrator
DeeAnna is a Texan native born and raised in San Antonio who moved to Dallas in 2014. She has been working in the dental field since 2008 and is passionate about the care of all her patients. She enjoys educating them about their dental care and how the AB Perio team can help them achieve great dental health! In her free time she enjoys spending time with her husband Chez and their Great Dane BiggieSmalls.
Shirley McCormack - Registered Dental Assistant
Shirley was born and raised in Cartagena, Columbia. She has been working in the dental field as an RDA since 2014. She is very proud to be a part of a great team that takes the time to listen the concerns of all their patients and treats each one like family. One of the things she enjoys most about dentistry is seeing how changing a patient's smile transforms their life! In her spare time, she loves spending time with her family, trying new restaurants, and traveling.