Anxiety-Free Care with Sedation Dentistry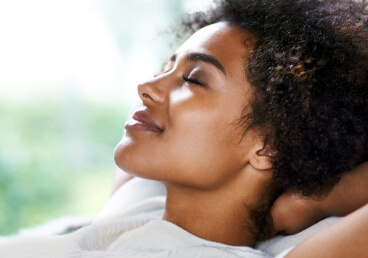 We understand that some patients experience anxiety when faced with an advanced dental procedure. We also understand that some procedures take longer than others and that some patients may want to complete more work in fewer visits. In each of these cases, sedation dentistry is an extremely valuable service.
Dr. Barnett offers three effective sedation services to help our patients.
Nitrous Oxide
Nitrous oxide is the most basic form of sedation and can help patients with mild to moderate anxiety. Also known as "laughing gas," nitrous oxide is a gas that's breathed in through a special mask and goes to work quickly; within a few minutes, patients will begin to feel its relaxing effects. Nitrous oxide also wears off quickly. Minutes after the mask is removed, it will begin to wear off, allowing you to return to your normal activities immediately following your appointment.
Oral Sedation
Oral sedation uses a prescribed sedative or anti-anxiety pill to help patients remain calm and comfortable during advanced procedures. It's often used in combination with nitrous oxide but can also be used on its own. Patients who are using oral sedation for their treatment will need to have a friend or family member with them afterward because the effects take longer to wear off. Within a few hours, you should begin to feel like your normal self again.
IV Sedation
IV sedation is an excellent option for patients who are undergoing a lengthy procedure, or patients who struggle with moderate to severe anxiety. On top of this, IV sedation gives us more control over your level of sedation. As with oral sedation, you'll need to have a friend or family member drive you home afterward, and we recommend waiting until the following day to resume your normal activities.
If anxiety has prevented you from receiving the treatment you need, we're happy to provide these great sedation options. No one should delay or avoid treatment because of anxiety. If you have further questions about how sedation dentistry works, don't hesitate to contact Barnett Periodontics with your questions.